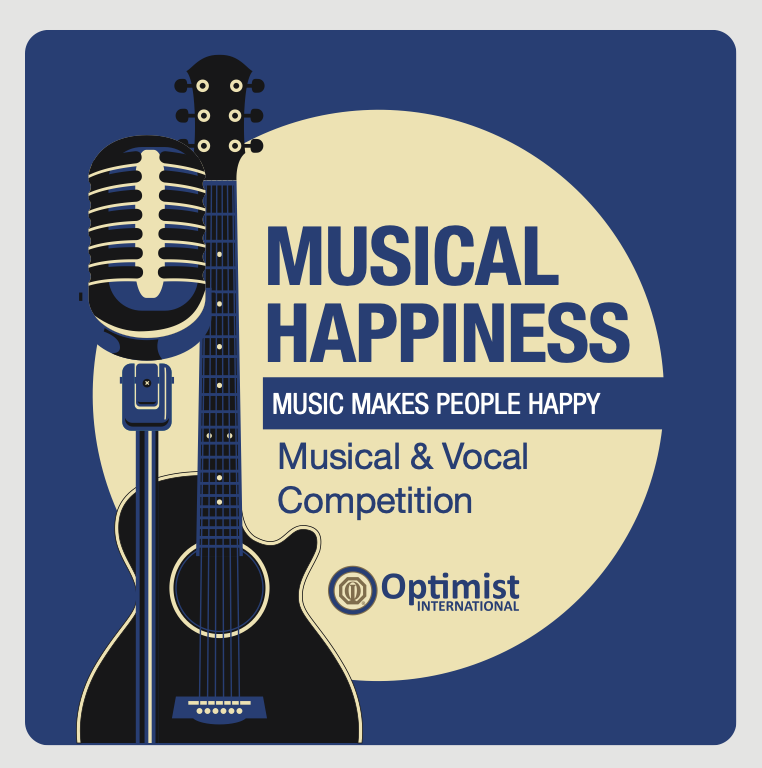 Does music make you happy? Do you tap your toes at the table and sing your heart out in the shower? Then we want you to join us on March 20, 2021, for the first-ever Music Makes People Happy OptiForum. The forum will be unlike all others, featuring musical performances, speakers, projects, and happy thoughts. We will also see the winners of the Optimist Musical Competition: Music Makes People Happy.
We need your help, please! Please download and share the following flyer with the youth in your community and encourage them to enter the Music Makes People Happy competition. Their entry goes straight to Optimist International via YouTube with the hashtag #OptimistMusicalHappiness2021. Youth 11 to 18 (under 19 as of October 1, 2020) are eligible for cash scholarship prizes. You may also download a press release to share with your local media outlets here.
Guidelines
The topic for the Musical and Vocal Competition is 'Choose Happiness'.
Contestants must be a minimum age of 11 and under the age of 19 as of October 1st of the current Optimist International contest year (October 1 – September 30) and who have not yet completed secondary school or its equivalent, including CEGEP students in Québec, Canada.
Any performances must be original material or in the public domain (free of copyright and/or royalty free).
All entries must be submitted through YouTube using the #OptimistMusicalHappiness2021 no later than March 15, 2021.
Also, email the YouTube link to programs@optimist.org and in the subject line write #OptimistMusicalHappiness2021 and include the attached form. The Musical or Vocal submission shall be no longer than three minutes.
At the International level, 1st place in each category will receive a $250 scholarship; 2nd place in each category will receive a $150 scholarship and 3rd place in each category will receive a $100 scholarship.
The winners will be announced on the International Day of Happiness on March 20, 2021.