Could You Use a $2500 Scholarship?
Topic for the 2020-21 school year is: "Reaching your Dreams by Choosing Optimism"
Eligibility:
Open to all students under the age of 19 as of Oct 1, 2020 (and not enrolled as a degree-seeking student of a post-secondary institution)
Residence:
Student must reside in the State of Michigan – Lower Peninsula
Language:
The essay must be written in English
How to Enter:
Students write and submit an essay on their interpretation of this year's official topic, "Reaching your Dreams by Choosing Optimism".
This scholarship contest is comprised of 2 levels: A preliminary round, which is conducted by local Optimist clubs across the state (entry deadline is generally Jan 31, 2021). The winner from each local club advances to the District level, where the overall winner receives a $2,500 scholarship in the spring.
See the list of participating clubs and submit your essay packet to the one in your community. If there is not an Optimist Club where you live, submit your essay packet to the one nearest to you. Duplicate entries will not be accepted and are grounds for disqualification.
Most Clubs only accept submissions during the months of December and January. It is your responsibility to verify the deadline with the respective chairperson. Student submissions will not be accepted after the Club-level contests have closed.
Optimist Clubs or parents wanting more information can use the form below or please e-mail the Michigan District Essay Chair at essay@michiganoptimists.org.
---
Club-Level Winner's Submission Deadline:
The deadline for Clubs to submit their winning essay to the District Chair is February 28, 2021. Please refer to your Club Packet or contact the District Chair for more information.
The Essay Contest is sponsored by Optimist International to give young people the opportunity to write about their own opinions regarding the world in which they live. The approach can encompass a young person's personal experience, the experience of their country or a more historical perspective. In addition to developing skills for written expression, participants also have the opportunity to win a college scholarship!
Club winners advance to the District contest to compete for a $2,500 college scholarship. The District-level scholarships are funded by the Optimist International Foundations.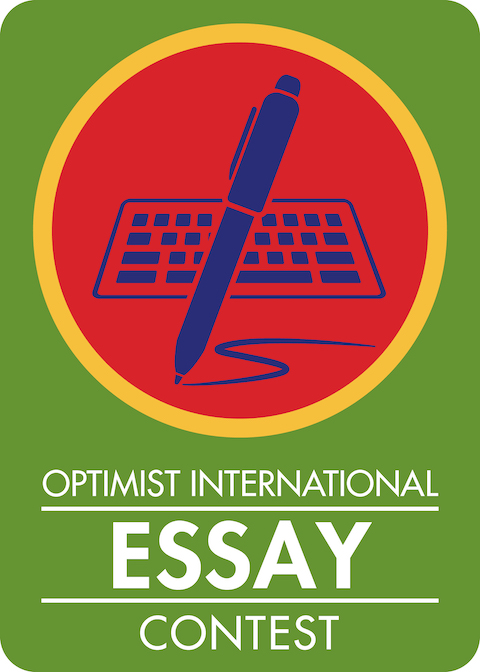 Application for 2020-2021 Optimist International Essay Contest
list of participating clubs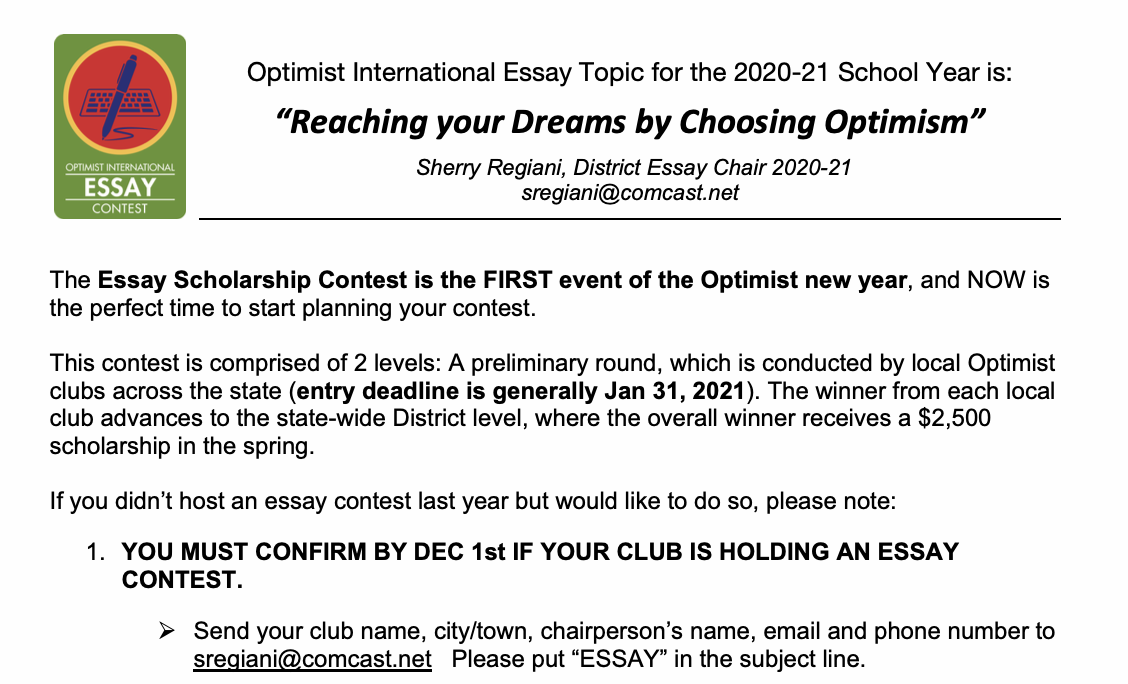 Letter to Invite Schools to Participate
Get in Touch. Get Involved.
Whether you're a parent of a student, a teacher, a youth volunteer or even an Optimist looking for more information, please use the form below and someone from the Michigan District Optimists Essay Committee will contact you. Be as concise as possible in the Message area.